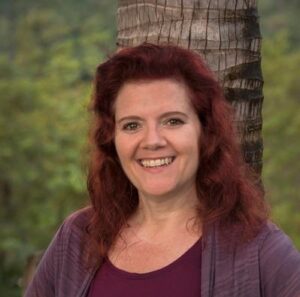 Rachelle Simpson Sweet Ph.D. – Who am I and why I should be your coach?
Dr. Rachelle Simpson Sweet was born in the UK and moved to the USA at age 13. She currently lives in Nashua, New Hampshire. She has a diverse background living in many countries in her life and working in a variety of settings. She has interests in finance and real estate and spent many years investing and managing real estate in the US and internationally. She received a formal doctoral education in Clinical Neuropsychology at Nova Southeastern University, including rotations in Clinical Neuropsychology & Health Psychology at Henry Ford Hospital. She completed a 2-year post-doctoral fellowship at Evanston Northwestern in Pediatric Clinical Neuropsychology. She has now branched into genetic evaluations in private practice and as the Director of Coach Support at Apeiron Zoh.
She holds certifications in Health and Well-being coaching with an emphasis on positive psychology and Lifestyle Medicine. She has presented research within the area of neuropsychology at professional conferences and has contributed writing pieces for 3 different published books. Struggling with weight issues and dieting since 13 years of age. She understands what it's like to have diets fail and feel like you can't change your body's programs. After years of struggling, observing family members with illness, and studying psychology, neuropsychology, and genetics, she came to understand biological individuality and epigenetics.  Learning that each of us has a unique blueprint. Based on this she has developed the B.E.S.T. Living™ coaching program to assist clients to find their best state of thriving.  She also launched the B.E.S.T. Living™ Show podcast.
If you want to see some before and after photos of my journey
"Rachelle coaches from a wealth of experiences that contribute to her thoughtful, understanding, and insightful reflections. Her easy and accepting manner makes it easy for me to admit areas I am struggling with and want to change, no matter how embarrassed I may feel. Rachelle's non-judgmental nature helps me discover new ways to look at my challenges and encourages me to continue experimenting with new techniques with the faith that I am moving closer to becoming my best self each week."

Natalie G.
"Rachelle is a skilled listener who challenges me to realize my dreams and to seize my strengths. She is empathetic, hearing my feelings and accepting me where I am at. Rachelle leaves me energized and confident in succeeding with my every day and long-term goals. I feel energized and confident by Rachell's coaching."


Colleen T.
DISCLAIMER: The information presented is not intended for the treatment or prevention of disease, nor a substitute for medical treatment, nor as an alternative to medical advice. It is presented for information purposes. Use of the information provided is at the sole choice and risk of the reader. You must get your physician's approval before beginning any diet or exercise program.