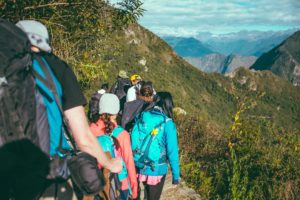 Ahh plateaus, if your mountain climbing it's a welcome respite from the climb, if your dieting it feels like torment. Weight lose plateaus are going to happen and you are going to be frustrated. I have had them last a week to 10 days and most recently 7 weeks. In the last 14 months I have had 3 of them. They usually occur when I am busy and stressed out. At these times it is very difficult to keep my diet under control and consistent. Despite maintaining a 1000 calorie deficit almost everyday, the scale wasn't changing.
Some people still have the conception that the secret to weight loss is eating less and moving more. But it's not the complete picture. Unfortunately, everything from our environment and mentality, to our stress levels and biology influence the size of our fat cells. So during the 7 weeks I was stuck on the plateau, I did a retrospective examination of several things in my diet to see if I could change the number on the scale.
I looked at my fiber content. You can burn an extra 200 calories a day by increasing your fiber. Sadly, this wasn't going to work for me as I was already eating optimum levels of fiber in excess of 21 grams per day. Then I looked at fat content and percentage. I was eating around 30% of my diet in fats, which is the high end of the range (20-35%). But my sources of fat were nuts, seeds, avocados and other sources of healthy fat overall, so this really shouldn't be effecting weight loss, if anything they should be kicking it into gear. Then I cut out my snacks and changed things around, but that didn't change anything either. It was discouraging, but I didn't give up.
Now based on my weight and level of activity, having a 1000 calorie deficit per day is tough to accomplish most days, but I stuck with it. My husband, Jon, suggested I didn't and reduce the deficit to 750 per day. Of course I was stubborn and didn't heed his advice. I was still wanting to lose 2lbs per week!! He stated, "but you are not losing anything, so wouldn't a 1 lb or 1.5 lbs be better?" (Way to use logic on me!). He said, "maybe you're just not eating enough to lose weight." Of course, to a lot of you that may sound crazy, but after a couple more weeks of frustration, I decide to give it a try. Just like that, the scale began to move again.
I had forgotten my own sensible advice…..eat enough calories each day to keep your body happy and wanting to shed excess fat. Not feeding your body will cause it to go into survival mode and hold on to unwanted fat, not get rid of it.
Now I don't know for sure that it wasn't just that simple. That 7 weeks was extremely stressful and busy with work. Cortisol certainly can increase with stress and halt fat burning. Also, not getting enough rest can do the same thing, so these two factors are important to think about when you reach a plateau and you have ruled out that what your eating is not the cause of the problem.
Once again, here is an easy formula to remember, eat 10 x your goal weight in calories, so for example if your goal weight is 150 lbs, eat 1500 calories per day. Make sure your goal weight is realistic for your height and body build. Never cut calories below 1200 calories per day. Of course, eat more if you move more. Walking, swimming, etc will mean you need to increase your calorie intake.
I am happy to say I am a loser once again, hope you are too.